How to take a Photo at Home for Passports and Visas
DIY Guide to taking your own Passport or Visa Photo at Home
Top Tip: Take you picture outside in daylight without using flash. Ideally, it should be a cloudy bright day (no shadows cast by the sun). Select a background that suits your requirements - a sheet hanging on a washing line will do the trick - and take the picture. Do not try and crop the picture in the camera, it won't work - this can be done afterwards on a computer. Click to see a guide on taking your own Baby Passport Photo at home.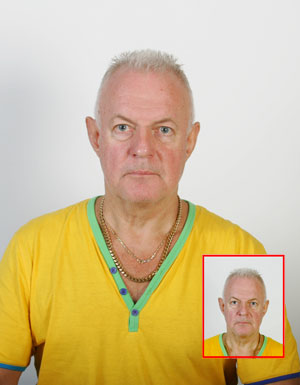 Send us your photo using the guidelines below
Send us a half length photo of the subject (see above)
Leave plenty of space above the head
Stand about two metres away from the person
Ensure the person stands about one metre away from the background
Select the highest quality setting on your camera
If your camera has a back light compensation button try using it
If your camera has a portrait setting you should select it
All countries require a neutral expression with no teeth showing
If you wear glasses our advice is to remove them
Ensure you have selected the right background colour
If you have followed our advice and not used flash and taken the picture outside you should end up with a photo completely FREE OFSHADOWS. Don't worry if you photo doesn't look perfect. - we can correct many faults at the printing stage. All pictures are assessed before printing and if we think there might be a problem we will email you and let you know, explaining what the problem is and how to correct it. 
 For some general Do's and Don'ts see our Unacceptable Passport Photo page
Online Ordering
Photo upload & payment Form
Problems with the form or need to send more photos? See Online Ordering for help
Additional Info
Passport & Visa Services