Online Schengen Visa Photos - £15
You can order your Schengen visa photos online. Send us a suitable photo and pay through PayPal using the online order form on the left. (No account needed). Don't worry - if the photo you send us is not up to scratch we will email you to request another.
If you are sending us a photo, read our Photo Guidelines
Orders are posted out from our London studios within 24 hours of being received. Postal delivery can take up to one week depending on your location in the world.
If you require a resized digital picture for an online visa or passport application, send us your photo using the online order and payment form and we will resize it for you and send it back by email.
Visit our Passport Photo Studio - £15 per set
If you live in London, you are welcome to pop into our Camden High Street Studios and have your Schengen visa photo taken and printed by an experienced staff member. The process takes around 10 minutes and no appointment is neccessary. If you really want to look your very best for your Schengen visa photos, then consider having a fabulous passport makeover photo shoot.
Schengen Visa Photos - Size, Specifications, Size & Requirements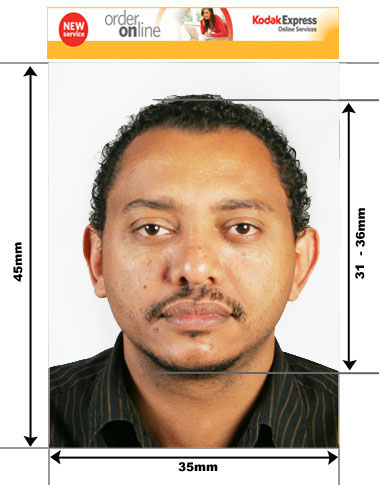 One Colour photo is required
Not be older than 6 months
 Taken against a plain light background
 Photo size 35mm by 45mm
Passport photos in U.S. format (50mmx50mm) are not accepted
 Face must cover 2/3 of photo and looking straight forward
 Neutral expression
Mouth must be closed (no obvious grinning or raised eyebrows)
 Eyes must be on the middle line or in upper half of the photograph
Hair must not cover face
 No reflection or glare on your glasses
Frames should not cover your eyes
We strongly recommend that glasses are removed
 The photograph must be in sharp focus and clear
 Have a strong definition between the face and background
 Printed professionally - no inkjet printing
 Eyes open and clearly visible
Eyes should not be obscured by hair or glasses in any way
 Head covering allowed only for religious beliefs or medical reasons
Schengen Visa Photos for Kids
Photographs of children must show a clear image that is a true likeness of the child. The eyes should be open and if you need to support a baby's head, it is important, that your hand cannot be seen in the photograph.
Please do not hesitate to contact us if you think we can help with your Schengen passport, visa, ID and baby photo requirements.
Schengen Visa Countries
The Schengen Visa has made traveling between its 25 member countries (22 European Union states and 3 non-EU members) much easier and less bureaucratic.
Austria
Belgium
Czech Republic
Denmark
Estonia
Finland
France
Germany
Greece
Hungary
Iceland
Italy
Latvia
Lithuania
Luxembourg
Malta
Netherlands
Norway
Poland
Portugal
Slovakia
Slovenia
Spain
Sweden
Switzerland
Traveling on a Schengen Visa means that the visa holder can travel to any (or all) member countries using one single visa, thus avoiding the hassle and expense of obtaining individual visas for each country.