Online Mozambique Passport and Visa Photos - £10 $15.50 €11.75
You can order your Mozambique passport, visa and ID photos online. Send us a suitable photo and pay through PayPal using the online order form on the left. (No account needed). Don't worry - if the photo you send us is not up to scratch we will email you to request another.
If you are sending us a photo, read our Photo Guidelines
Orders are posted out from our London studios within 24 hours of being received. Postal delivery can take up to one week depending on your location in the world.
If you require a resized digital picture for an online Mozambique visa or passport application, send us your photo using the online order and payment form and we will resize it for you and send it back by email.
Visit our Passport Photo Studio - £15 per set
If you live in London, you are welcome to pop into our Camden High Street Studios and have your Mozambique passport and visa photo taken and printed by an experienced staff member. The process takes around 10 minutes and no appointment is neccessary. If you really want to look your very best for your Mozambique passport and visa photos, then consider having a fabulous passport makeover photo shoot.
Mozambique Passport & Visa Photos - Size, Specifications & Requirements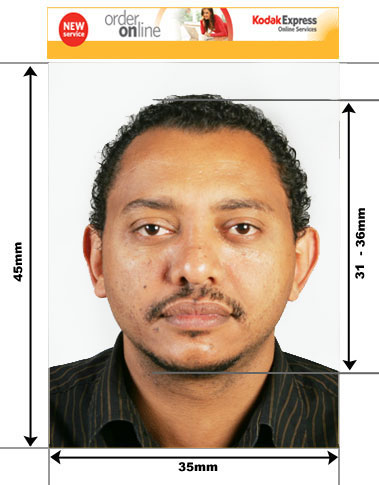 Mozambique Passport and Visa Pictures - The Mozambique authorities simply state
Picture size is 35mmx45mm
Size of face should be 31mm to 36mm, from the chin to top of head.
Taken not more than six (6) months ago
The photos should be taken in colour with a matte finish against a light plain background.
Applicants of light complexion should avoid wearing white clothing
Applicants of dark complexion should wear coloured clothing
Grey/white hair should be photographed against a pale blue or grey background
There should be no eyeglasses and no background shadows
Excessive light reflection on image is unacceptable
Light distribution should be even throughout photograph
Photographs should provide a full frontal view of the head, neck and top of shoulders
Ears clearly visible as much as possible.
Photographs should display appropriately clad images
Exposed shoulders and chest are to be avoided especially if you are a woman
Applicants should wear no head covering
Headgear can be worn for for religious reasons
There should be a margin of 3mm to 4mm above the head
Please do not hesitate to contact us if you think we can help with your Mozambique passport, visa, ID and baby photo requirements.
Online Ordering
Photo upload & payment Form
Problems with the form or need to send more photos? See Online Ordering for help
Additional Info
Passport & Visa Services