Online Kenya Passport and Visa Photos - £10 $15.50 €11.75
You can order your Kenya passport, visa and ID photos online. Send us a suitable photo and pay through PayPal using the online order form on the left. (No account needed). Don't worry - if the photo you send us is not up to scratch we will email you to request another.
If you are sending us a photo, read our Photo Guidelines
Orders are posted out from our London studios within 24 hours of being received. Postal delivery can take up to one week depending on your location in the world.
If you require a resized digital picture for an online Kenya visa or passport application, send us your photo using the online order and payment form and we will resize it for you and send it back by email.
Visit our Passport Photo Studio - £15 per set
If you live in London, you are welcome to pop into our Camden High Street Studios and have your Kenya passport and visa photo taken and printed by an experienced staff member. The process takes around 10 minutes and no appointment is neccessary. If you really want to look your very best for your Kenya passport and visa photos, then consider having a fabulous passport makeover photo shoot.
Kenya Passport & Visa Photos - Size, Specifications & Requirements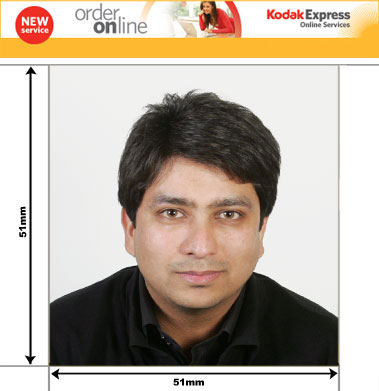 Kenya Passport and Visa Pictures - The Kenya authorities simply state
Recent photographs of the applicant
The size of the photograph must not be more than 2.5 inches by 2 inches
The photo should not be less than 2 inches by 1.5 inches
The above means that 2x2inche photos as shown are fiine
From chin to top of head must be 65-75%
No smiling, showing teeth or frown
Must have a natural expression
These photographs must be taken full face without hat
The photographs must not be mounted
The photographs must be printed on normal thin photographic paper
We recommend that US passport and visa standards are applied in the absence of further info
Please do not hesitate to contact us if you think we can help with your Kenya passport, visa, ID and baby photo requirements.
Online Ordering
Photo upload & payment Form
Problems with the form or need to send more photos? See Online Ordering for help
Additional Info
Passport & Visa Services